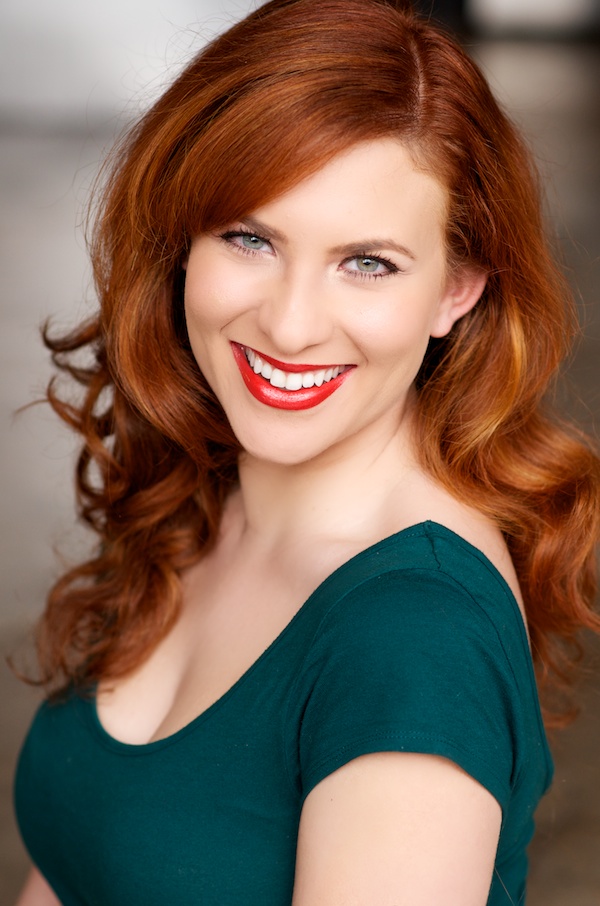 Alexis Nichols is an award winning versatile actor, writer, voiceover talent, and model whose young career promises great things. She is most noted for appearing as Lucille Ball in "Becoming Lucy", a film she co-wrote, which premiered at the Festival De Cannes Court Metráge in May of 2013. To date, the film has been a part of over 25 film festivals screening internationally with numerous awards and nominations. Alexis has been honored with awards for Best Actress from the Best Shorts Competition, the International Independent Film Awards' Gold Award for Best Actress in A Leading Role, the WIND (Women Inspiration Nation & Diversity) award and the Emerald Award for Best Actress at Cinerockom in Beverly Hills.
No stranger to biopics, Alexis also played Dorothy Parker in North Hollywood's theatrical production of An Evening with Dottie, where she balanced comedy and drama while mastering both the mannerisms and motivations of one of the century's most interesting figures. Critics deemed her portrayal "divine" and her New York parlor accent "convincing" and "true". While in New York City, Alexis proved both her comedic and dramatic abilities, appearing on stage in Something Outrageous at the Michael Chekhov 45th St. Theatre and Rumors at the Mount Carmel Theatre Co. She also appeared as Sheila in another Neil Simon play, Jake's Women, part of a showcase directed by Academy Award nominee Brenda Vaccarro, as well as in several other recent and ongoing film projects.
As a writer, Alexis helped develop the story for The Christmas You Don't Know, a short film for the Los Angeles 48 hour film race. The film was selected for their "best of fest" screening at TCL (the famous Graumann's Chinese Theatre) and was honored with numerous nominations including Best Use of Character for the writing team. Her short screenplay Athena & Afro which she co-wrote was recognized as a semi-finalist at the Creative World Awards and a finalist in the Hollywood Screenplay Competition. Alexis is also the Editor in Chief of FLiP Magazine, a bi-monthly men's and women's print and online magazine with over 2 million subscribers.
Alexis received her MFA in Acting for Film from the New York Film Academy. She trained at the Yale Summer Actors Conservatory and the New York Conservatory for Dramatic Arts Summer Program. She also spent time studying at the University of Oxford, performing with the Oxford University Light Entertainment Society.
Not content with just stage and screen acting, Alexis has also built a name for herself as both a voiceover talent and model. Within the last few years, she has recorded numerous voiceover spots, including national and regional commercials for Dick's Sporting Goods, Disney's Aulani Resort, QVC, Mercedes Benz Fashion Week, and Sesame Street's Sesame Place Theme Park. She has also recorded numerous audiobooks and book trailers and is the help screen voice on current Motorola phones. Alexis' first animated feature film and television series can be found on Netflix, where she voices three characters in the English version of the animated series Little Witch Academia. Most recently she was nominated for a Voice Arts Award in New York City's Lincoln Center for her commercial demo reel.
Alexis' modeling work is equally varied. She has appeared in print, online, and on the runway as a fashion model, pinup girl, and, most recently, as a gothic beauty in Petite Alternative. A nationally and internationally published model, she has also appeared in Vogue Italia, Maxim.com, Car Kulture Deluxe Magazine, Spain's La Revista Shock, Retro Lovely, and Primer Round publications.
Alexis plans to continue taking on challenging and inspiring projects in all four veins: acting, modeling, writing, and voiceovers. She is particularly focusing on acting in television series and feature films, expanding into new modeling genres, and recording voiceovers for animation and video games. She looks forward to continuing her journey as an artist and building upon the success she has already enjoyed.